Shanghai (Gasgoo)- On December 27, FAW Group and Internet titan Alibaba Group formed a strategic cooperation on building next-generation intelligent-connected vehicles (ICV), according to a press release from the state-owned automaker.
Under the latest agreement, Alibaba will assist FAW Group with the construction of global digital infrastructures by virtue of its domestic and overseas cloud facilities, and help the automaker improve product R&D, marketing, user services and operation by offering its data intelligence technologies.
Besides, the collaboration also allows both parties to explore the scenarios where such cutting-edge technologies like edge-computing, IoT (Internet of Things) and blockchain could be put into practical applications.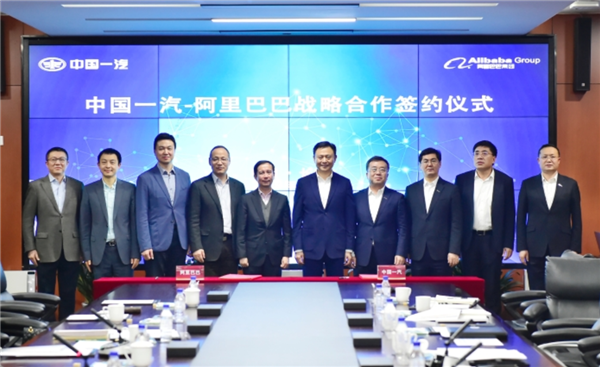 (Photo source: FAW Group)
FAW Group said it will develop digital infrastructures based on core technologies like cloud computing, data intelligence and mobile synergy technologies, attempting to help the automotive industry rise to a cloud-enable intelligence era.
Moreover, Banma Network Technologies, a joint venture between Alibaba and SAIC Group, will furnish smart cockpit solutions based on its forward-looking technologies and open technical platform. One of missions about the cooperation is to propel the industry to develop self-owned controllable intelligent-connected in-car operating system, which is crucial to build a future-oriented mobility service ecosystem.
The tech joint venture has partnered with a number of auto brands, including Roewe, MG, Maxus, Dongfeng Citroen and Changan Ford. The newly-formed cooperation signals an expanding circle of friends to Banma's future.
Furthermore, FAW Group and Alibaba plan to team up in other fields like intelligent logistics, high-definition map and electronic procurement, in a bid to push ahead with the innovation and application of digitization, intelligence and automation technologies in logistics domain.