UAV abs rapid prototyping


we provide the Engineering Review for customer drawing, mechanical engineering review, electrical engineering review center, Production Engineering Review, Product Development, Sample test, jigs design, jigs make, Fixtures make, Fixtures design from
DJI-Innovations is an superior UAV(unmanned aerial vehicles) developer and manufacturer, in order to develop a new UAV, they
fortunately found Tuowei thru Internet to make a few prototypes so that they could check if there was any defect from their
design. Our engineers needed to take good care and pay highly attention of this UAV project as the high accurancy and best
surface finishing has been requested by this speical client.
How to make an UAV prototype
The UAV prototype was made of ABS by using CNC machining. First, we need to do CNC process to cut off the spare parts of the raw material of ABS to obtained the rudiment of prototype.
Secondly, we must do polishing to the prototype as there were some burrs or tool marks left on the prototype after CNC Machining, so, we need to use sandpaper to deburr and make the surface more smoothly.
The next process is painting, we need to use painting gun to spray the surface of UAV prototype by the required color, which according to Pantone color requested by our client.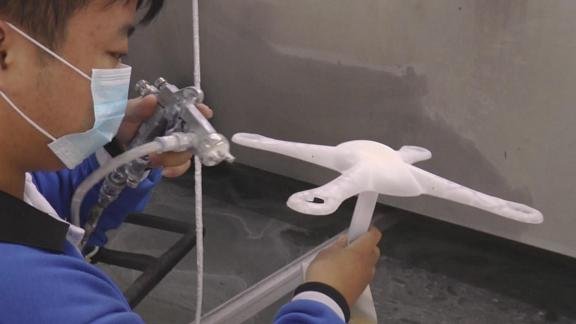 Finally, we must do assemble to all the components to do the UAV curing, then completed prototype was ready as shown as follow.