| | |
| --- | --- |
| 1. | CNC Machining & Prototyping |
| 2. | Silicone Mold & Vacuum Casting |
| 3. | 3D Printing (SLA/SLS/DLP) |
| 4. | RIM(reaction injection mold) |
| 5. | Sheet Metal Fabrication |
| 6. | Surface Finishing |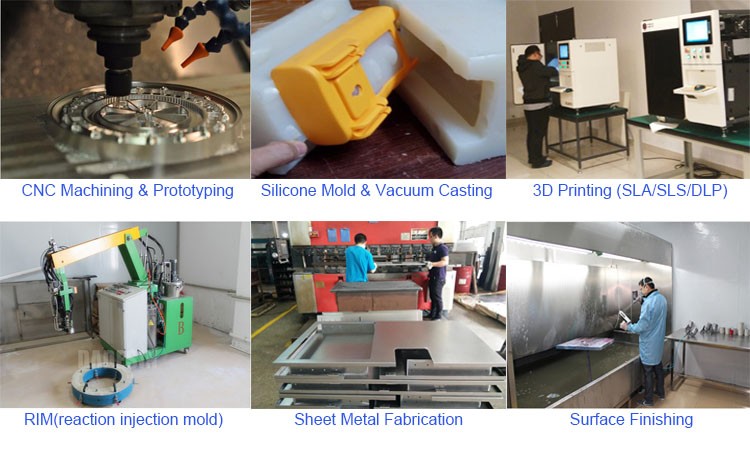 CNC Machining & Prototyping
CNC (Computer Numerical Control) Machining Rapid Prototyping a technology that integrated with computer aided design CAD/CAM/NC and other advanced technology. Through digging and cutting process, It can turn a single piece of material to 3D model designed. CNC machining center can produce high specification industry prototype. It is suitable for high specification prototype and low-volume production.
Compare with other prototyping method, CNC machining prototyping is with advantages of low cost, fast turn over, and high specification. CNC machining process can work on variety of materials, and with high surface quality, gives strong sense of real feeling.
CNC Machinin Max Size: 1800mm x 680mm x 120mm
Silicone Molding & Vacuum Casting
Vacuum casting or Silicone molding technology uses the model which produces by CNC machining or 3D printing method, to make the silicone mold in vacuum. And uses PU material to fill out silicone mold cavity in vacuum, to form the exact same model as the prototype.
Due to its fast turn over, low-cost, Vacuum casting or Silicon molding can greatly reduce the cost of product development, cycle and risk.
Silicone Mold materials are: domestic silica gel, imported silica gel, silica gel, silica gel.
The filling materials used: domestic and imported PU, POM, ABS, PP, PC high temperature resistant ABS.

3D Printing (SLA/SLS/DLP)
SLA Rapid Prototyping: Stereolithography (SLA or SL; also known as stereolithography apparatus, optical fabrication, photo-solidification, or resin printing) is a form of 3-D printing technology used for creating models, prototypes, patterns, and production parts in a layer by layer fashion using photopolymerization, a process by which light causes chains of molecules to link together, forming polymers. Those polymers then make up the body of a three-dimensional solid.
SLS Rapid Prototyping: Selective laser sintering (SLS) is an additive manufacturing (AM) technique that uses a laser as the power source to sinter powdered material (typically metal), aiming the laser automatically at points in space defined by a 3D model, binding the material together to create a solid structure.
RIM(reaction injection mold)
Reaction Injection Molding (RIM) is the process by which molded polyurethane(PU) parts are made. In the process, 2 liquid components are mixed and injected into the mold where they chemically react and cure,which forms the polyurethane polymer parts.